Bitcoin is back from the dead, surges past $24,000 as analysts make price prediction of $1 million by 2030
---
Bitcoin topped $24,000 on Wednesday for the first time since June as crypto investors shrugged off the looming recession and inflation after news of a softer than expected rate hike from the Federal Reserve.  The world's biggest cryptocurrency surged past $24,000, a level not seen since mid-June.
Bitcoin is now trading at $24,177 before falling a little back to $24,022 as of the time of writing. Bitcoin is not the only cryptocurrency benefitting from the booming market. Ether, the second most popular cryptocurrency, also climbed above $1,600 amid optimism over a highly anticipated upgrade to its network known as the "Merge."
However, we will be remiss if we don't put the latest rally in perspective. Bitcoin is still down by about 50% since the start of this year. In a statement, Antoni Trenchev, CEO of crypto lender Nexo offers some rays of hope saying "This isn't necessarily the end of the crypto bear market, but a relief rally for Bitcoin is long overdue."
"Bitcoin is beginning to find its feet after a shaky month, and the next week will be telling," Trenchev added.
That's not all. Some crypto analysts even made more hawkish projections that bitcoin will be trading at $1 million by 2030.
FX Empire Bob Mason noted that by carrying out a cursory extrapolation of bitcoin price movements since 2017, the analysts said that bitcoin is projected to hit a run rate of $191,000 by January 2030.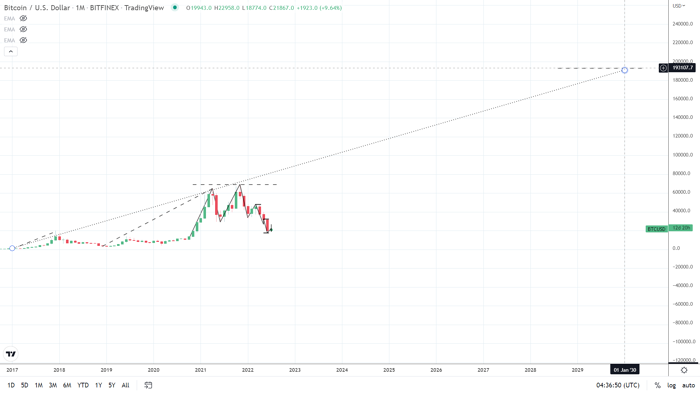 You can read the rest of the predictions below.
"BTC Monthly Chart 2030 Price ExtrapolationWhen considering the price impact of bitcoin halving on a four-yearly basis, a step mechanism needs to be included in the extrapolation to reflect the impact of each event on BTC.
Between now and 2030, two halving events will occur, one in May 2024 and the second in May 2028.
Looking at the historical halving events,
First Halving – November 28, 2012 – BTC surged from $12 to a November 28, 2013, high of $1,050 (+8,650%).
Second Halving – July 9, 2016 – BTC surged from $664 to a July 9, 2017, high of $2,556 (+285%).
Third Halving – May 11, 2020 – BTC surged from $8,721 to a May 11, 2021, high of $55,831 (+540%).
Based on the above, bitcoin has surged by an average of 3,158% in the one year after each halving event. By removing the 2012 anomaly, the average increase is 412.5%.
Using the extrapolation from January 2017 to an extrapolated May 2024 projected price of $108,000 and incorporating a 1-year price increase of 413% between May 2024 and May 2025, BTC could hit $446,000.
Incorporating the estimated 413% increase between May 2028 and May 2029, BTC would be on target to hit $2.08 million by May 2029, giving BTC a January 2030 value of $2.11 million."
Mason stated that the predictions are based on the assumptions that "bitcoin mining support remains firm, the crypto market regulatory framework supports innovation and the evolution of cryptos as an alternative asset class, bitcoin Whales numbers hold steady while increasing bitcoin holdings, crypto asset adoption continues to grow at current rates, and there is no catastrophic crypto market event."
---
Trending Now