Meet Sdream: The Smartest, Foldable, All Terrain eBike
---
It's been a while since we wrote about electric bikes (e-bikes). We've received tons of emails from our readers asking us to feature a new electric bike. E-bikes continue to gain popularity as the need to combat global warming gains worldwide attention. E-bikes are increasingly becoming a viable green alternative to vehicles and may be the next revolution for smart mobility.  So we scour the internet to find the best utility e-bike with great features. One of the new entrants to the e-bike market is  SDREAM from Los Angeles-based startup called SDREAM BIKE. The company launched their crowdfunding campaign on Indie on February 20. With 22 days left to go, their camapign has generated $153,206 (as at this time of writing) from 157 backers, which is 306% of their $50,000 flexible goal. Sdream can reach speeds of more than 20 mph or 32km/h and offers assisted travel of up to 50 miles or 80 km per charge. Sdream will be available for first delivery in June 2019.
SDREAM is the smartest foldable e-Bike with all you need on the road. It's easy to get more power while pedaling less with the reinforced motor. Easy, fun and powerful are not the only tags we try to give you! Environmentally friendly energy, top quality components designed with a smart vehicle control unit, SDREAM is the best alternative to polluting vehicles as well as a great companion to stay fit. The built-in GPS makes SDREAM an e-Bike that can't be stolen. Reinforced by a precise electric powertrain, perfectly balance the efficiency between power and energy. The Sdream bike team customizes the electric models in accordance with different country legalities, coming in four different variations-the 250, 250S, 500S, and the 750, 750S. Up to 750-watt motor that allows it to reach speeds of more than 20 mph or 32km/h and offers assisted travel of up to 50 miles or 80 km per charge.
SDREAM features an attractive, streamlined appearance crafted by hydro-forming techniques. The battery is hidden in the body and supplies up to 750W, allowing for speeds of more than 20 mph and assisted travel of up to 55 miles per charge. Riders can move by pedaling or through hybrid or full electric modes to suit different environments and personal fitness. It's no longer a dream to get more power while pedaling less.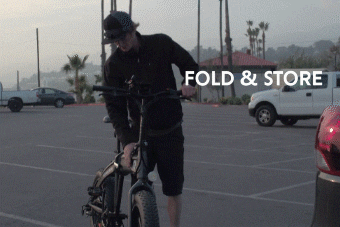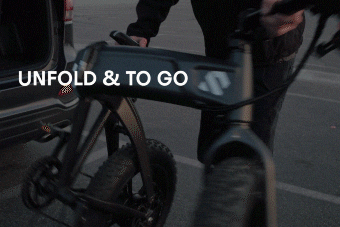 The 2-step compact folding design also makes SDREAM an elegant fully-loaded monster with all we need on the ride. Storage two SDREAM easily in your SUV. You drive, we ride! SDREAM e-Bike is styled in an integrated streamlined shape, presenting the spirit of a leaping antelope. The unique outlook is contributed to its manufacturing process, which involves the hydro-forming technique – a craft that uses fluid and high pressure to shape the tube into a strong and aesthetical piece.
SDREAM is offering a torque sensor (optional) which directly drives motors into their maximum. The output of the torque force is almost simultaneous with the pedaling, so your SDREAM could detect the pedaling power and provide enough support at first pedal.
It helps the bike accelerate fast and uphill easier. By balancing between manpower and the motor power, it works in coordination and improves battery efficiency which leads to a "WOW!"
The Guardian reported that more than 250,000 bikes have been stolen in the UK in the past three years – one every six minutes. The FBI also estimated that over 1.5 million bikes are stolen every year. With the disturbing high rate of bike theft to bike owners around the world, SDREAM company has put a strong emphasis on building an e-bike that cannot be stolen to combat this problem. Sdream comes with a built-in GPS and Vehicle Control Unit (VCU). The SDREAM e-bike owner will be notified via phone when an unauthorized movement is detected, letting them know where it is taking place and the location of the e-bike.
After each trip, the rider's efforts will be generated as a visible riding report. The e-bike status, riding data, and mileage analysis can be synced to a smartphone through Bluetooth where it can be managed and shared. The SDREAM e-bike is equipped with puncture-resistant 4-inch fat tires, which provide a smooth and safe ride on any terrain, Tektro disc brakes, a Shimano 7-speed cassette gear system and the option to add various accessories. The compact folding design also makes SDREAM an elegant fully-loaded monster.
SDREAM is more than a ton of fun. It is a medium to connect people to nature, rider to their bike, and people to people. The SDREAM crowdfunding campaign on Indiegogo is going to launch on Feb. 20. The price point will be around 1,000 USD, which is up to 64% off from MSRP. SDREAM is expected to launch a new path in smart mobility as a reliable travel partner that can go wherever one can imagine.
---
Trending Now