Meet Calamus One, The world's safest and most advanced Electric Bike with Blindspot assist, biometric scanner and GPS
Posted On September 2, 2019
---
The electric bike (ebike) is over saturated with over thousands of brands around the world. This makes it difficult to find the best ebike that meets your specific need. In recent times, many bicycle brands do not manufacture their own product, but rather import and re-brand bikes manufactured by others with enhanced and unique features. We've written several articles about the ebikes. So why writing another one? We scour the Internet to see if there is anything new since our last story. We can't resist but to write about Calamus One Ultra Bike. It is one of the most talked about bike on major tech outlets. What is so special about Calamus One, you might ask?
The Calamus One electric bike is currently the only electric bike on the market that offers a number of smart features rarely found is a single bike at an affordable price. It is a giant leap for ebikes. Calamus One comes with with Blindspot assist, biometric scanner and GPS. Its the world's first e-bike with an inbuilt TFT touchscreen, that lets you interact with the Ultrabike's advanced features. Its central computer and army of sensors, constantly evaluate the bike's health, and helps keep the rider safe.
The story of Calamus One started twenty months ago when the co-founder, Nilesh Bothra, was looking to buy a new electric bike. He searched on the market but could not find any bike that meets his unique need. "We saw a lot of great bikes out there, but we couldn't find a bike that had the right features with the right overarching vision," Nilesh said.
Nilesh later decided to create an electric that will not only meet his needs but also meet the needs of others. "We had a dream of building the world's most advanced and safest bike," says Nilesh. He and his co-founder, Huzaifa Hararwala, started a crowdfund campaign on IndieGogo. In just a few months, they raised $239,114 from 96 backers, exceeding their original funding goal. At just $1,997 starting price, Calamus One Ultra Bike is packed full with a lot of smart features.
Ultra Bike and Smart Features
The Calamus One comes at a top speed of up to 28 mph (45 km/h). It also comes with blindspot assist, which uses ultrasonic sensors to detect cars coming up behind the e-bike. As an ultra bike,  Calamus One comes with blindspot assist, biometric scanner, android enable and up to 750W of power.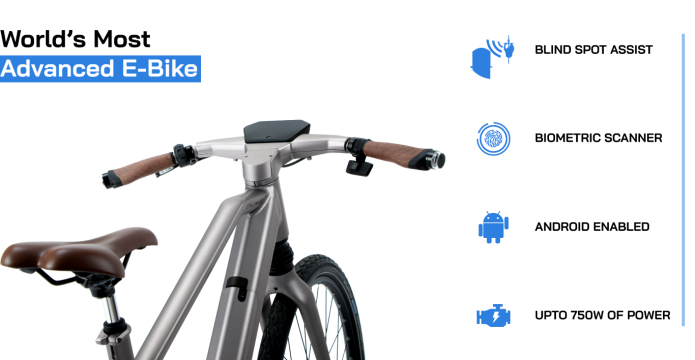 The Ultra-bike frames are custom-casted uni-bodies with 100% internal cabling. This gives the One a bespoke look, with sleek unbroken body contours. Add to this, the premium automotive-grade paint job, and you've got an all-round masterpiece with an elite road presence.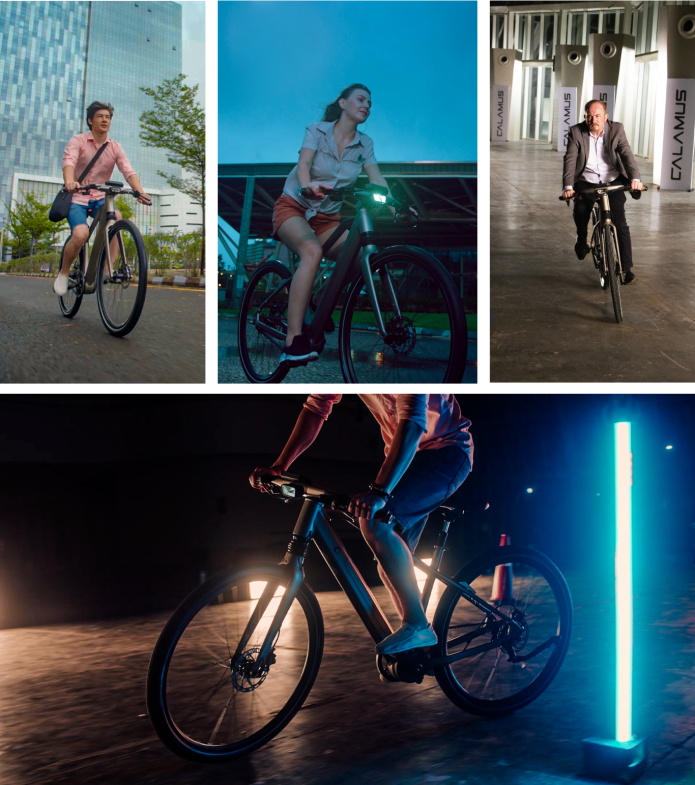 Powered by Ultra-drive mid-motors from Bafang, and driven by carbon belts from Gates, these bikes are ultra-responsive. They're also ultra-efficient. The Calamus One gives you upto 50 Miles/80 km of range on a single charge, has a detachable battery and quick-charge capabilities. With an integrated weather-proof computer and navigation touchscreen, the One is the only e-bike to offer integrated support for android apps, rider profiles, and real-time self-diagnosis.
Calamus One haptic feedback is included in the form of vibrations coming from the handlebar on the side of the approaching car. While other electric bikes allow you to add radar-like technology to bikes, few come with sophisticated setups like Calamus One.
To make sure riding on the road is safe for the rider, the bike has inbuilt ultrasonic sensors that gauge traffic from behind and inform the rider if he/she is about to take a turn/change the lane by providing haptic feedback using inbuilt vibration motors in the handlebar. The feedback is intuitive and greatly avoids which could be a fatal crash.

The bike is google map-enabled to easily navigate anywhere around the world using a global network card and a GPS chip that comes inbuilt into the bike.


The bike also has an ultra-fast biometric scanner for locking, unlocking and rider profile recognition. The scanner is a capacitive fingerprint scanner that is located just below the screen on the handlebar.

The GPS and GSM worldwide chip enables worldwide tracking of the bike in case it gets lost or stolen. You can track it very easily using the Find my ride feature on our mobile application. The tracking shows the bike history and informs the user of the location in case a thief is trying to steal the bike.

Component theft is a big problem in all cities around the world. We have come up with patent-pending theft-proof fasteners that can only be opened using a special tool that is provided with the bike. These fasteners look very similar to the conventional fasteners but cannot be accessed with conventional tools.

You parked your bike in the parking lot and someone is trying to steal or mess with your bike. How do you know? The bike has a built-in anti-theft alarm that works in 2 stages when someone is trying to steal or tamper with the bike. First is a warning provided to the thief in case of an attempt where the owner is also informed through the mobile app, if he/she continues tampering then a loud alarm comes on and another warning is sent to the owner via the app.

The bike has a patent-pending smart lock that can be accessed using the mobile app to lock/unlock the bike. The lock is a hidden lock integrated into the frame of the bike which also automatically locks unlock the bike with a simple fingerprint scan or if selected under options you are in the proximity.
---
Trending Now