All-In-One 'Infinite Cooler' achieves crowdfunding campaign success with over $100,000 raised in just 2 hours on IndieGogo  
---
You don't see this kind of crowdfunding success very often. Meet Infinite—the "Swiss Army Knife" of coolers. Infinite is the world's most versatile, smart cooler. The only cooler that combines fun and functionality into one. Infinite Cooler is a new crowdfunded product that combines state-of-the-art portable refrigeration with bluetooth speakers, blender, phone charger, touch screen, LED lighting and more. Infinite Cooler is an outdoor multi-function cooler assumed to be a Party-in-a-box.
From camping to tailgating, beach bonfires to backyard BBQs, Infinite Cooler brings the fun anywhere. This 61 quart, all-in-one box of awesome retains ice for up to 12 days. With Hi-Fi Bluetooth speakers, 550W blender, and a wireless phone charger Infinite lets you take your party off the grid! It's packed with everything you need, making any outdoor adventure a breeze to prep for. This amazing product was just launched by a veteran team on Indiegogo. Within just 2 hours they achieved their funding goal and hit $100 000. To date, Infinite Cooler has raised $138,244 USD raised by 426 backers.
Infinite Cooler brings together a spacious 61 quart capacity food refrigeration, bluetooth speaker, wireless charger, blender/coffee grinder, LED lighting and storage all combined in a sleek, modern design.
It takes too much time and effort to organize all the gear you need to have a great outdoor party with friends. The Infinite Cooler was built to make outdoor parties and excursions extremely easy to put together and a lot more fun. This convenient, swiss-army like device lets you pack everything you need- drinks, food, music, power, lighting, blender and more, all in one compact place.
The Infinite Cooler is now available on Indiegogo at a special early-bird price of $229. Early backers will get 60% off the MSRP price of $599. Infinite Cooler will start shipping to backers at the end of 2018, with early-bird backers receiving their coolers first and the rest of backers receiving their product in April 2019. The campaign will provide regular updates and transparency every step of the way until the the cooler is delivered to backers.
Infinite Cooler was created with the mission of making high quality, easy-to-use, multi-function coolers to everyone. They believe big things always come in one package. You can be everywhere and have fun with everything you need. In creating the Infinite Coolers the team focused on 3 things: quality, affordability and design. They partnered with our user community to create a cooler that is useful, easy-to-use and affordable. It has the features users want, in an elegant, simple design.
Wireless Charger and USB Ports
When you're in the great outdoors, it's important to stay powered up. Stay connected with Infinite's dual USB ports and wireless charger. Even hardcore outdoor enthusiasts need their phones charged.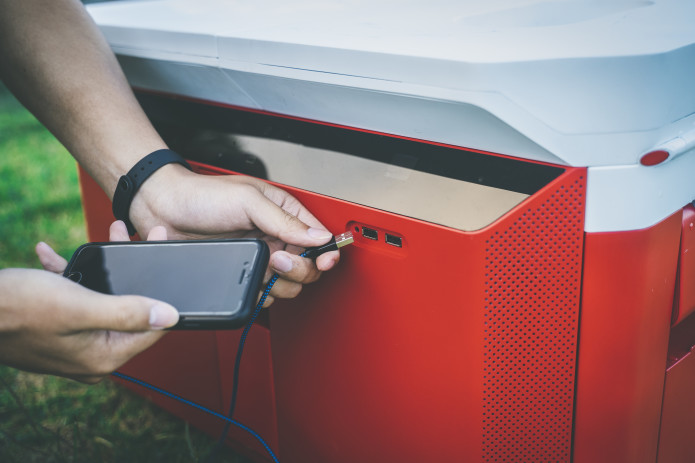 Infinite Cooler Battery
The Infinite cooler battery will last for 4-5 hours with all the features on. It takes 2 hours to fully charge the Infinite Cooler battery.
Multifunction Fork, Utensils, Cutting Board and Bottle Opener
Short on plates? Forget utensils? Don't worry, Infinite brings the kitchen outdoors. Each cooler is organized with all the essential tools you need for a picnic or BBQ.  It makes prepping food and drinks faster and much easier.
Bungee Cord
Nobody wants to take multiple trips to the car. Eliminate the need for extra baggage with built-in bungee ropes. The tie-down bungee cord helps secure and transport everything easily in one trip.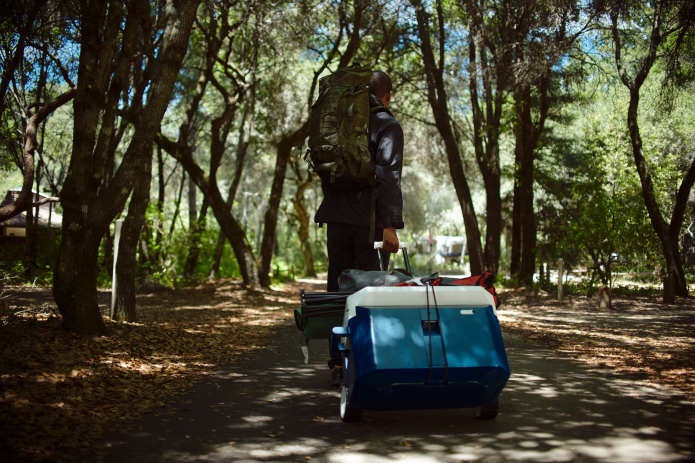 LED Light
When the sun goes down, the party doesn't stop. Light up your party with Infinite's LED light.
Digital Screen + Easy-Touch Buttons
We're digitalizing your outdoor experience. Infinite's Digital Screen displays the inside temperature of the cooler.
Use the Easy-Touch Buttons to power the cooler on/off, and control the Bluetooth, LED lights and built-in camera.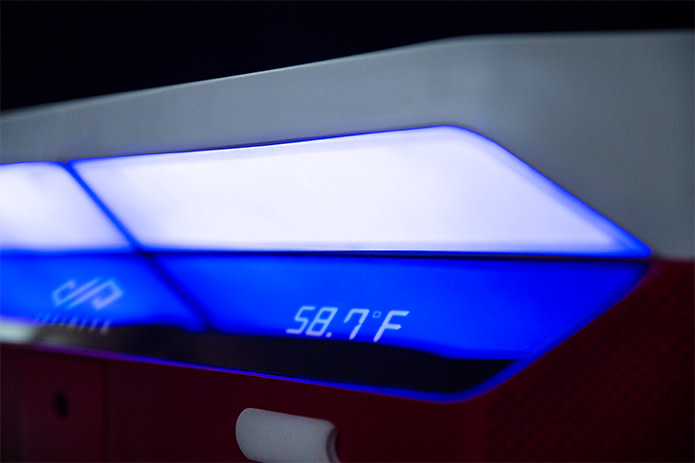 Water Drain
You asked, we listened: every Infinite Cooler will now come with a water drain!
Thank you to everyone who asked about it. We love receiving all of your feedback, and we're always open to suggestions to improving Infinite Cooler. Fortunately, since a water drain was already built into one of our preliminary models, we'll be ramping that one up! Since this is the case, this water drain feature would not affect our production timeline which means WE'RE STILL ON TRACK FOR SHIPPING – huzzah!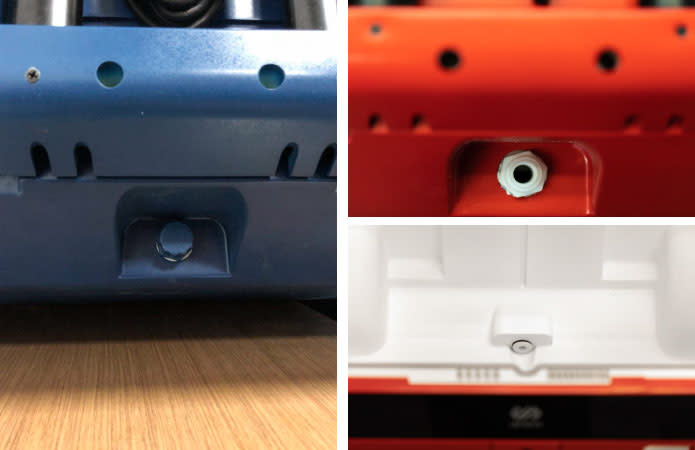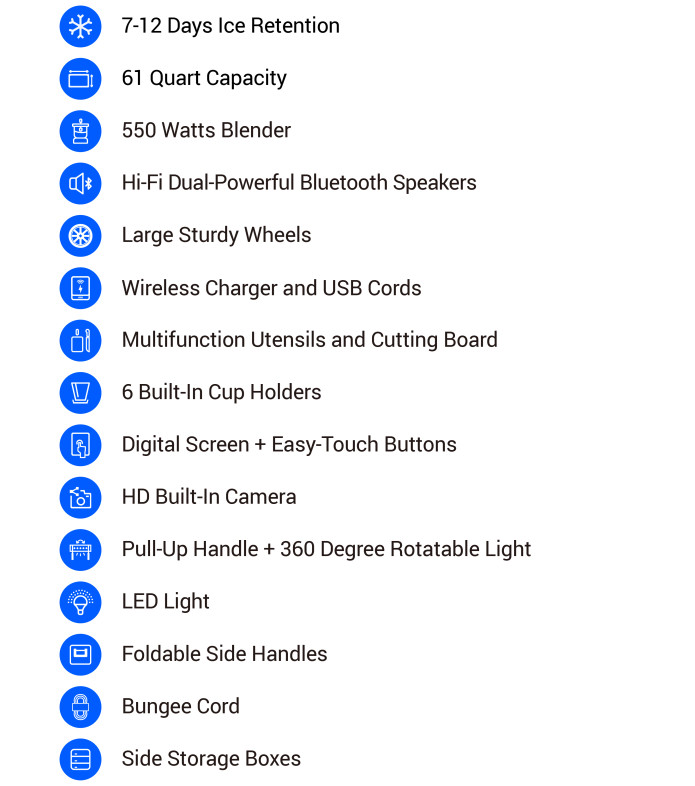 Colors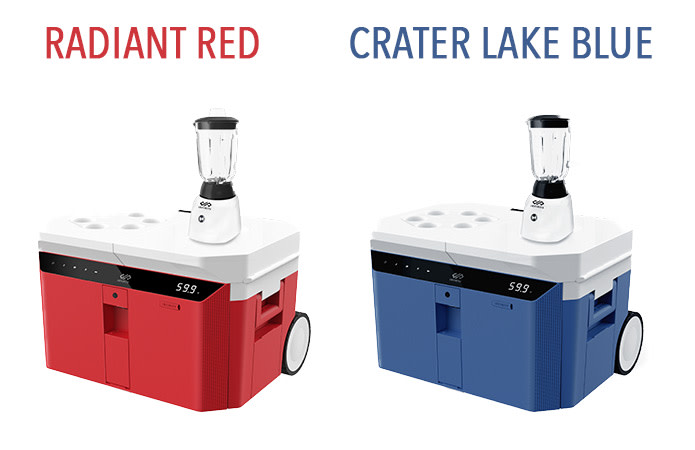 Radiant Red: Just like the sun radiates down on a perfect summer day, this red was created to channel positive energies and unleash the fun on all your outdoor adventures.
Crater Lake Blue: Inspired by the blue waters of Oregon's Crater Lake. This blue was carefully crafted as a reminder to never stop exploring, and to always let your adventurous spirit guide you.
---
Trending Now