Zycle is a new folding e-bike with swappable battery for unlimited range
Posted On February 6, 2018
---
Zycle is a new way to commute. It is a folding and fully electric bike with swappable battery for unlimited range. Developed by a California-based startup, Xing Technology, the ZYCLE has a range with throttle control of 20+ miles, while pedal assist can take you 40-50 miles. You can expect to travel at speeds upward of 18-22MPH depending on riders weight and weather conditions. Zycle is compact enough to fit in your luggage yet powerfully equipped with a 250W motor, 20mph top speed, 20-40 mile range and a top speed of 20 mph. Engineered for performance & portability with a durable 6061 aircraft aluminum frame. Travel the distance & double your range in seconds with Zycle's quick-swap battery. So far, the Zycle has raised $55,005 from 84 backers on IndieGogo. With 16 more days to go, Zycle already reached 110% of $50,000 flexible goal.
The ZYCLE battery takes about 3-4 hours from empty to full charge. Zycle is a sturdy and can handle weight up to 330 pounds. It is available in four color choices with affordable second-battery option. The 250 watt geared hub motor is lightweight and efficient vs. powerful. Zycle is lighter than many other folding electric bikes at 43.5 pounds. The battery is easy to take off for storage or charging. It's sleek integrated lights keep you visible. Its responsive 12-magnet cadence sensor and twist-throttle allows you to ride however you wish, the display panel provides limited feedback and can be difficult to read in bright light but the bluetooth app is deeper and you can charge your phone from the display panel with USB.
Travel the distance with a 250W motor, compact and adjustable battery, Tektro front and rear dual disc brakes, and much more. Not one for 100% electric? No problem, Zycle comes with a 5 level pedal assist Shimano gear system.
With a maximum torque of 35 N.m, Zycle can tackle hills with up to 45 degrees gradeability. Comprised of 6 gears and 5 levels of pedal assist, you can choose to ride your Zycle with assistance or without.
Throttle Vs. Pedal Assist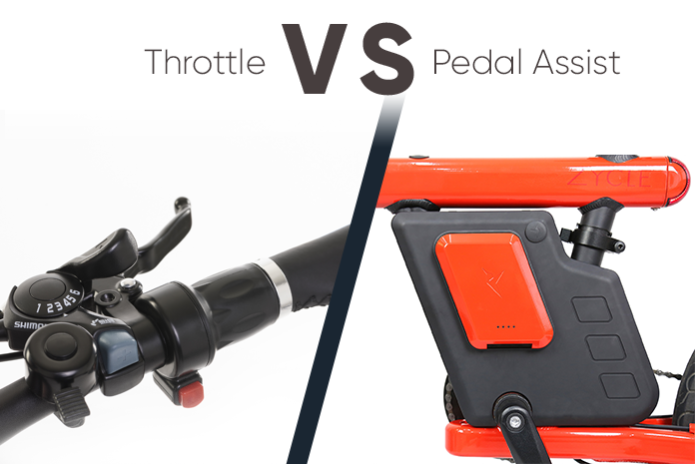 Throttle – You have the choice to pedal and not use the throttle or only use the throttle and make your Zycle 100% electric.
Pedal assist – Choose from 5 levels or pedal assist without a throttle. Level 1 is the lowest assist level with little help to level 5 which is the strongest assist level giving the rider extensive help. You also have the option to turn the pedal assist off, turning Zycle into a normal bike.
Swap and Go
Designed to be compact and easily removable for ease of travel and convenience.
Each interchangeable lithium-ion 36V 7.8ah Samsung battery pack gives Zycle a range of 20-40 miles. Doubling as a power bank, with s USB port neatly hidden on the underside, so you can charge your small electronics on the go. That's not all! Approved by the FAA, you can easily travel with Zycle. Zycle starts at $650 USD. Every Zycle includes a thumb throttle, LED lights, front and rear dual brake system, all-terrain tires, 250W motor, bell, and tool kit. Get 38mi range per battery charge and a 20mph top speed. The first delivery is scheduled for March 2018.
Items included:
Zycle eBike
Swappable Battery
Speed Charger
Instruction Manual
After years of working with industry leading companies, the Zycle team had a simple idea to create a fun, safe, and efficient means of transportation. They spent  thousands of hours developing and manufacturing the X-bird. The end product is the the most compact, affordable, and technologically advanced electric scooter in the world. The X-bird simplifies the way you travel. Below is a table of how the Zycle compared with other e-bikes.
You can read more about Zycle on their crowdfunding page on IndieGogo
You can see Zycle in action in the video below.
---
Trending Now